cannellini bean salad with marinated Alaria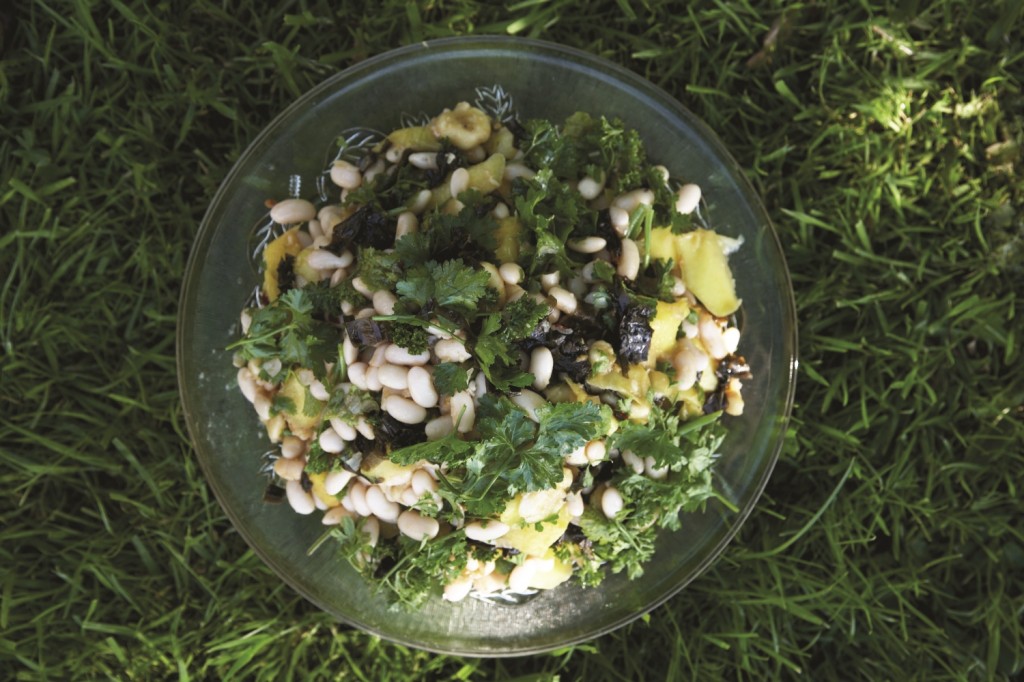 Seaweed used: Alaria, Kelp for cooking beans
– 25g (1oz) raisins
– juice of 2 lemons
– 100ml (3½ fl oz) olive oil
– ½ onion chopped finely
– 2 garlic cloves, chopped finely
– ½ red chilli, seeds removed, sliced finely
– ¼ teaspoon black onion seeds
– 450g (1lb) cooked cannellini beans or 2 tins
– 2 bananas
– ½ a mango, fresh, cubed or chopped roughly
– marinated Alaria (listed below)
– large fistful coriander leaves, chopped coriander leaves to decorate
To prepare the salad
Soak the raisins in lemon juice to allow them to plump up.
Heat the oil in a large frying pan and sauté onion until transparent. Add the garlic, chilli and onion seeds and sauté for 2 – 3 minutes. Set aside to cool.
Rinse the cannellini beans under cold running water, drain well and place in a large bowl.
Add the lemon juice and raisins stirring to coat the beans. Toss in the cooled onion and chilli. Slice the bananas and toss in immediately to prevent blackening. Add the mango, marinated Alaria and coriander. Mix gently and decorate with the coriander leaves.
Marinated Alaria
Alaria needs to be simmered for around 40 minutes because the midrib is quite tough. Marinated Alaria can be used to stir through other salads, or as a side dish with grains.
– 2 x 15cm (6 inch) pieces of fresh Alaria cut into 1–2.5cm ( 1/2 – 1 inch) pieces or same length (about 3g) of dried Alaria, snipped as above
– 1 tablespoon tamari or soy sauce
– 3 garlic cloves, crushed
– 2 teaspoons honey
– 1 tablespoon olive oil
– 1 teaspoon grated ginger
– A dash of toasted sesame oil
To prepare the marinate
Soak the Alaria in just enough tepid water to cover it for 20 minutes.
In a small saucepan, combine the rest of the ingredients except the sesame oil and boil for 1 minute over moderate heat.
Add the Alaria and a little of the soak water to the saucepan and bring back to the boil, uncovered. Simmer for 40 minutes or until the mid-rib is very tender.
Add some more of the soak water if needed and continue to boil until the mid rib is very soft.
Remove from the heat, add a dash of toasted sesame oil and taste for sweetness, adding more honey if needed.

Cooking dried beans
As a general guide use just less than half the cooked quantities if using dried beans. For this recipe use 200g (7oz) of dried cannellini beans. Rinse well under a cold tap and soak in plenty of water overnight with a piece of kelp to help soften the beans. Change the water and bring to the boil. Boil for 5 minutes then rinse and drain. This helps to remove the indigestible starches. Cover the beans with cold water again and add back in the piece of kelp. Bring to the boil and simmer until cooked, about one hour. Drain and rinse with cold water. Discard the kelp as it will have disintegrated.