HEALTH, BLOOD TYPE, GENETICS & FOOD
You can greatly improve your health, vitality and emotional balance by simply knowing your blood type and by making diet and lifestyle decisions based on the results of an ever-increasing body of genetic and blood type research. Your blood type influences every area of your physiology on a cellular level. It has everything to do with how you digest your food, respond to stress, your mental state, the efficiency of your metabolism, and the strength of your immune system. Blood type diet is the key that unlocks the door to the mysteries of health, disease, longevity, physical vitality and emotional health.
The following courses will be delivered by Dr. Prannie Rhatigan in 2014-2015:
Introduction to Blood Type Diet and Generative Medicine
A one day basic introduction to:
Blood Type Diet & Generative Medicine
This introductory course can be used simply to improve your own health or as a stepping stone to becoming accredited as a personal health coach.
A Focus on the Measurements needed for Genotyping
A one day course on:
Genotype Measurements
Learn all the exact measurements needed to computer access your own personalised health plan. *a basic knowledge of blood type diet is needed to get the most from this day.
FOR MORE GENERAL INFORMATION VISIT:
Blood Type Diet and Genotype Diet may be unfamiliar to you but they are certainly worth having a look at. Following decades of on-going research and clinical work, Dr. D Adamo created The Blood Type Diets, a way of eating and living that has transformed the health of millions.
His first book, the New York Times best-seller Eat Right 4 Your Type, started a health revolution that continues unabated over ten years later. Now, with more than 3 million copies in print in over 50 languages, Eat Right 4 Your Type celebrates its 10th year as an unprecedented non-stop bestseller.
I plan to keep you informed about what is happening in Ireland. Meanwhile I invite you to explore the websites below. You will discover a powerful new world of individualized opportunities for better health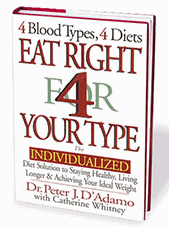 On line catalogue with new material.
Epigenic Research Website: