Midsummer Coney Island Experience 24th June 2017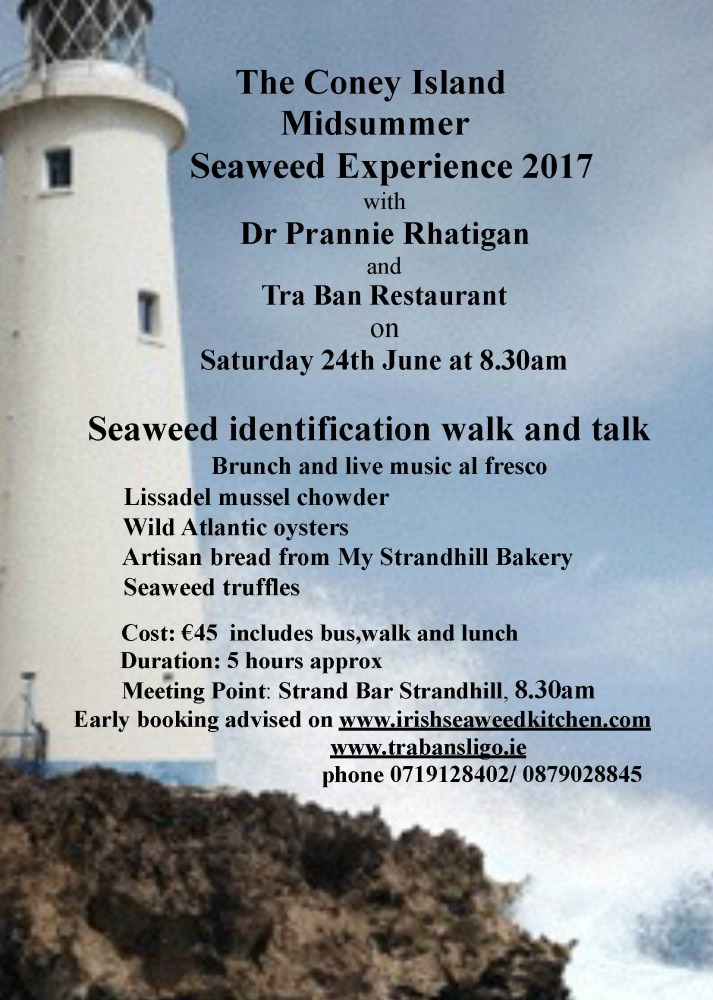 Midsummer seaweed experience on Coney Island with Dr Prannie Rhatigan.
Seaweed has always been a Superfood in Sligo. Learn to identify Irish edible seaweeds for yourself! All age groups will enjoy this culinary adventure to Coney Island starting and finishing at Trá Bán Restaurant in Strandhill.
First Dr Prannie Rhatigan leads a walk and talk along the seashore introducing the fascinating world of edible seaweed and how to identify and harvest them. With appetites well whetted, join Anthony Gray of award-winning Trá Bán Restaurant for a delicious lunch of local Lissadell mussels cooked on an open fire with freshly baked bread from My Strandhill Bakery.
Now in its 6th year – this is always a sell-out event and has been attended by John and Sally McKenna and a host of others from Ireland's culinary echelons over the years. Join us on Saturday 24th June 2017 and you never know who you will meet.
Seaweed identification walk, talk, brunch and live music al fresco with Prannie and Tra Ban Restaurant on the 24th June, 2017.
Our brunch will feature locally sourced seafood and seaweed including:
Lissadell mussels chowder
Wild Atlantic oysters
Artisan bread from My Standhill Bakery
Seaweed truffles
Date: 18th June, 2016
Time: 8:30am – 1:30pm
Meeting point: Strand Bar, Strandhill, 8:30am.
Price: €45 (includes bus, walk and lunch).
Wear strong waterproof shoes and bring rain gear, just in case.
Book Now