Yeats 150 Harp Festival of Moons – Lightening Moon 2015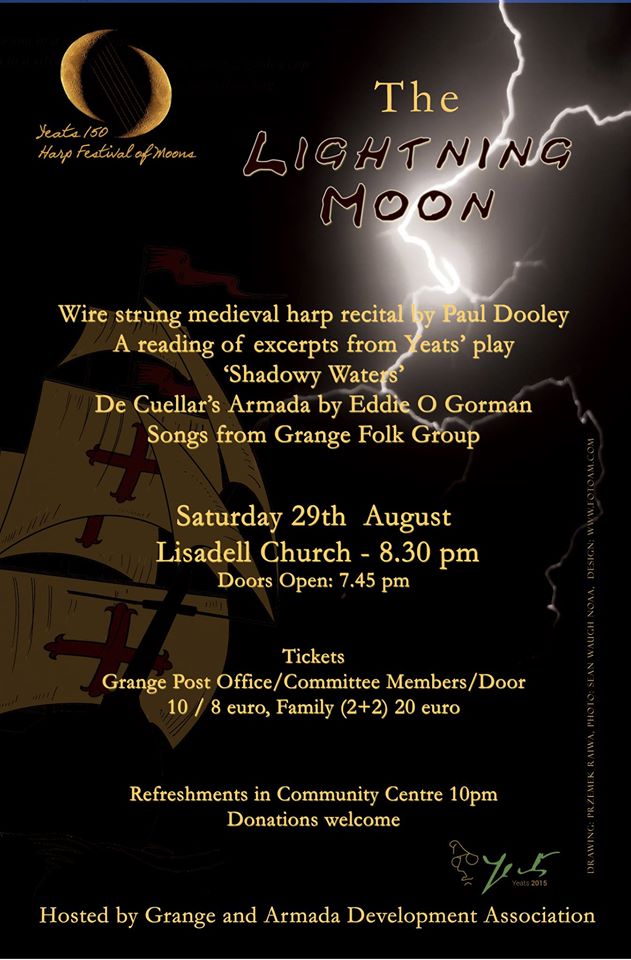 On the 9th full moon of the year the Grange & Armada Development Association will host a talk and recital by Paul Dooley. Grange is the site of three wrecks from the ill fated Spanish Armada of 1588. This saga has been kept alive for centuries through story telling, folklore and song. The ships, part of a 130 strong flotilla had been sent to attack Queen Elizabeth 1, whose father, Henry VIII minted the first Irish coins to carry the harp emblem.
The event is part of the Harp Festival of Moons, a year long festival of live harp recitals that will take place on every full moon in 2015. As a blue moon year with 13 full moons instead of 12, there will be 13 events in total. The locations for performances have been selected because of their association with the harp and/or Yeats' work and life.
Wire Strung Medievan Harp Recital by Paul Dooley
Reading of excerpts from Yeats' play Shadowy Waters
De Cuellar's Armada by Eddie O Gorman
Songs from Grange Folk Group
Doors Open 7.45
Refreshments in Community Centre 10pm (donations)
Tickets Grange Post Office; Grange and Armada Development Association Members/Door
10 / 8 Euro. Family (2+2) 20 Euro